Ice Ball Maker - Black Flexible Silicone Ice Tray - Molds 4 X 4.5cm Round Ice Ball Spheres

Silicone Ice Ball Tray With 4 Cavities ,

Ball Shaped Food Grade Custom Silicone Mold ,

High Quality Sphere Ice Molds Flexible silicone 4 sphere ice maker

Produc description

1. Made of 100% food grade silicone material, flexible and easy to clean

2. Temperature range: -40 centigrade~250 centigrade (-40-480F)

3. Safe to use in ovens, microwave ovens, dishwashers and freezers

4. Cools quickly and easy to clean

5. Hardness: 40, 50, 60, 70, 80 shores

6. Non-stick, flexible and easy to handle

7. Various colors/shape available

8. OEM service available

9. use for beers,drinks,in bars,club,paty The basic information about the product

Item No.

Product Silicone ice ball Material 100% food grade silicone Color customer request

Size L118*W118*H53mm LOGO silk-screen/deboss/emboss/print Packing Opp bag

+ master carton or question request Application ice, chocolate, jelly, cake, etc

Withstand temperature (℃ ) -40~250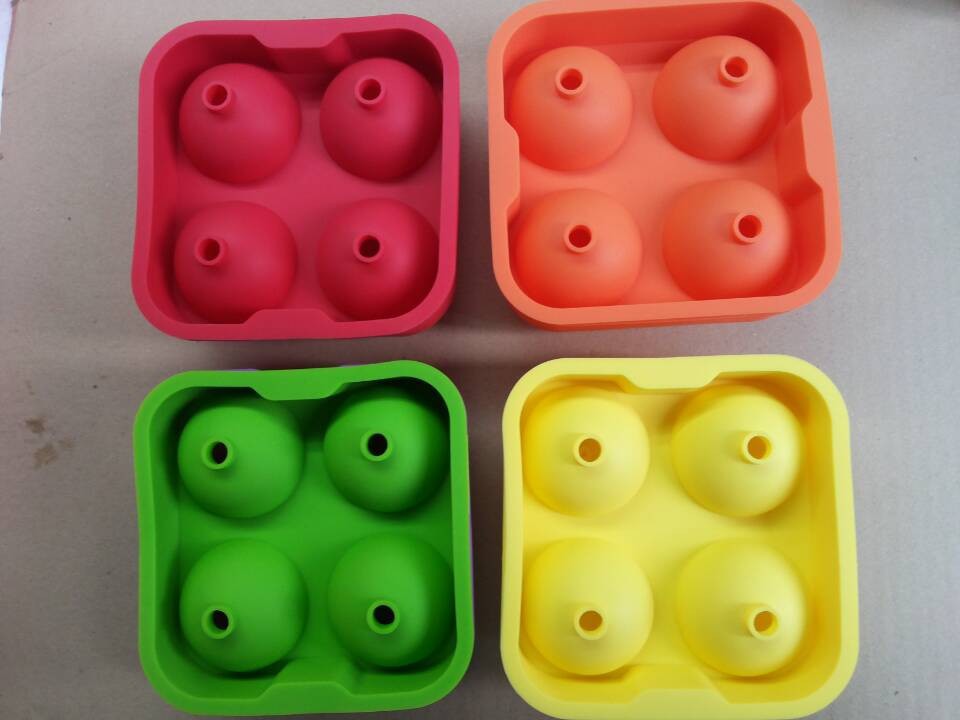 Manufacturer Description
THROW AWAY YOUR BORING ICE CUBES AND ICE CUBE TRAY! THE NEW WAY TO COOL YOUR BEVERAGE IS HERE.
SIMPLY THE MOST INTRIGUING ICE BALL MAKER THAT WILL MAKE YOU THE ENVY OF YOUR FRIENDS
- Well made and easy to use ice maker design
- This Ice Cube Mold - Ice Tray is an extremely useful product ranging from ice balls to popsicles
- Perfectly rounded ice balls to cool your Whiskey Glasses, Hurricane Glasses, Iced Coffee or your favorite beverage
MAIN FEATURES:
- 100% BPA free food grade silicone ice cube tray
- Flexible ice mold for easy release, non-toxic, and easy to clean
- Makes four 4.5cm ice ball "Spheres"
- Safe for dishwasher, freezer and refrigerator
- Seals well and is balanced for no spilling during freezing
- Exclusively designed for The Classic Kitchen
- This special design makes filling easier than other ice cube molds
MAIN BENEFITS:
- Large spheres of ice melt slower than conventional ice
- Great for cooling your whiskey or wine
- Fill with mint or fruit for Sangria or summer lemonade
- Use kids' flavored drinks for popsicles or colorful drinks
- Fill with coffee creamer for use in iced coffee
LOOK NO FURTHER..... The Ice ball maker mold is clearly the best choice with its 100% Lifetime Guarantee with proof of purchase, it is a RISK FREE purchase you shouldn't pass up.
ACT NOW WHILE SUPPLIES LAST! Buy your Ice Ball Maker today by clicking the ADD TO CART button. These make perfect gifts, so even BUY ONE FOR A FRIEND!
Product Features
Ice cube tray makes 4 X 4.5cm sphere shaped ice balls that are slower melting than traditional ice cubes High quality, 100% BPA Free food grade silicone; FDA approved Flexible ice mold won't crack or break like a plastic ice tray, Easy to fill, Easy to use, Easy to clean, Dishwasher safe Perfect for Whiskey or Hurricane Glasses, Great for Iced Coffee, Ideal for kids' popsicles, Elegant for Punch Bowls, Fill ice cube molds with fruit to enhance any beverage ice ball maker is Exclusively Sold by The Classic Kitchen and is the best choice with its 100% Lifetime Guarantee with proof of purchase. See special offers below.